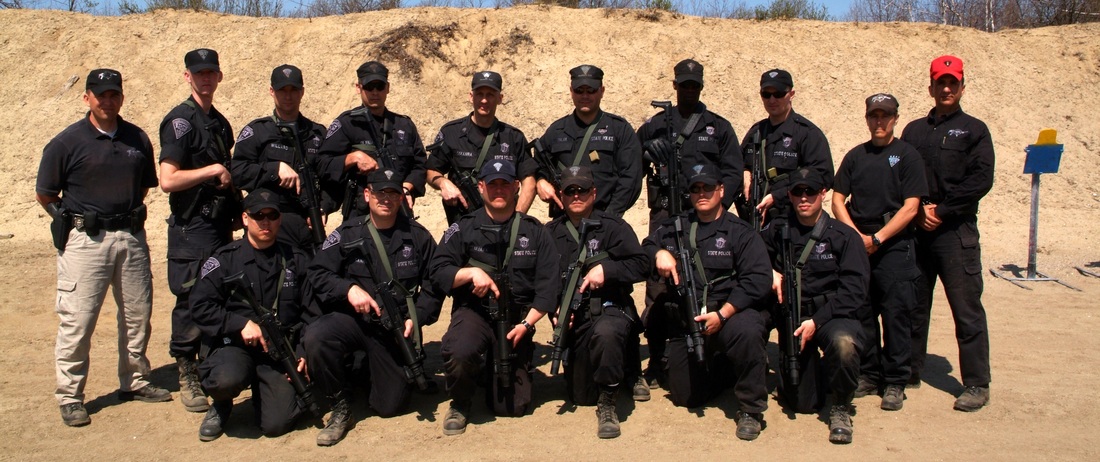 Training that Saves Lives on Both Sides of the Badge
All members of Saber Group ® are seasoned, experienced law enforcement professionals. In addition to years of documented field work, the Saber Group cadre have been providing viable, reality-based court-defensible training since 1991.

Above: SGI's Director Mike Conti (wearing red hat), with members of the Massachusetts State Police Firearms Training Unit (FTU). Conti, who founded the FTU in 2000, was tasked to train/certify the staff as MP5 Instructors in 2008.

​Seconded to Logan International Airport shortly after the 9/11 terrorist attacks, Conti proposed adoption of the MP5SD3 for members of the first-in-the-Nation US Airport Anti-Terrorist Unit (ATU). Conti designed and administered the entire training program for the ATU as well as served as NCOIC during his tenure at Logan.
---
The POLICE PISTOLCRAFT® Training System
While serving as Director of the MSP FTU, Mike Conti designed the reality-based, New Paradigm Police Firearms Training Program. The program, awarded a trademark under the name, POLICE PISTOLCRAFT, is needed more today than ever before. Planning is currently underway to provide Police Pistolcraft® Instructor certification programs. Information about these programs will be posted on this site.
Click on the links above to watch the complete videos. All videos detailing the
POLICE
PISTOLCRAFT
Program
®
are available for viewing free of charge. (Videos provided courtesy of
Calibre Press
.)
---
Check out our exclusive line of high quality books and manuals.
---
​
The Saber Group Story
Saber Group
was formed in 1994 to enable a group of like-minded police officers/trainers to explore various methods and technologies outside our full-time, law enforcement organizational structure.
I originally proposed the creation of the organization during a meeting with four men I'd worked closely with for several years. I had entrusted my life to these men on many occasions while working on the street, during narcotics investigations, and as members of the SWAT team, and knew we shared a strong sense of duty and dedication to the same mission: the improvement of police tactical and firearms training. That meeting evolved into a long-term, far-ranging journey that continues to this day. Along the way, many others have joined us both on a full-time and part-time basis. Sadly, we've also lost a few members during the years, including one of the original founding members,
Roger A. Ford
.
Our original goals were simple but ambitious: seek out as much knowledge, training, and real-world experiences as possible both inside and outside of the law enforcement community, then synthesize them and create reality-based training programs that worked.
​
Our original purpose was simply to facilitate viable, positive change within our own state-wide law enforcement organization. After several years of intense, dedicated work, we began to realize our focus should be expanded to include other law enforcement organizations as well, for many of the problems we were trying to rectify within our own organization were shared by the majority of others we came into contact with.
That is when
Saber Group
evolved into a full-blown, separate entity, being officially incorporated in 1997.
In the years since
Saber Group, Inc.®
was created, we have covered a great deal of ground both within our own law enforcement organization and in the private sector. While we've never allowed the legal and structural lines between the two organizations to blur, the ability to take what we have learned through our efforts with
Saber Group
and incorporate it into programs for our law enforcement organization have been invaluable in assisting us with our original mission. Likewise, the information and data we have been able to generate by putting literally thousands of law enforcement professionals through our programs has helped us continually refine and increase the effectiveness of the training methodologies we've developed and employ.
As far as we have come, we know we still have a long road ahead of us before our mission is completed.
Like the many good and dedicated professionals we've been proud to be associated with and learn from over the years, we intend to carry on with this mission until we can go no further, and it's time to turn the flag over to the next generation of trainers to carry on.
Mike Conti
Director
Saber Group, Inc.