eBOOK Edition Available Now! Download now for as little as $15.00!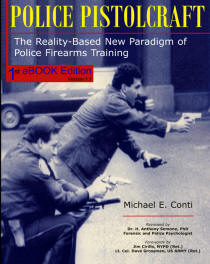 POLICE PISTOLCRAFT:The Reality-Based New Paradigm of Police Firearms Training
By Mike Conti
Reviewed by: Dr. H. Anthony Semone, PhD
Forewords by: Jim Cirillo, NYPD (Retired), Lt. Col. Dave Grossman, US Army (Retired)
For too many years, police firearms training programs have been designed based primarily upon the influence of outside sources: the military, civilian target and competition shooters, and some of the self-proclaimed "gun gurus" who often have a personal and financial stake in promoting their own style of pistolcraft. Now, for the first time, a firearms training program built specifically to meet the unique needs of the modern law enforcement officer has been developed.
The New Paradigm Police Firearms Training Program is designed to help ensure that our police officers are as well prepared as possible–mentally, physically, and emotionally–to employ their duty pistols safely, efficiently, and effectively when the need arises.
In POLICE PISTOLCRAFT you will learn:
Why the majority of police firearms training programs in use today do not satisfy the legal, moral, and ethical requirements that the courts have identified and professionalism demands.
How to easily create a New Paradigm-based firearms training program for your own department, agency, or unit.
---
Read what the experts are saying about POLICE PISTOLCRAFT® and the New Paradigm of Police Firearms Training...
"[Conti has created] a firearms training program that is unique in the field... The entire program can be easily duplicated at other range training facilities, by other range instructors, which will allow all police officers to benefit from this superior program."
- Colonel Thomas G. Robbins
Superintendent, Massachusetts State Police
(Excerpted from official correspondence)
"[The author's] understanding of the unintended, yet potentially seriously deleterious effect of creating "up-range" threats is brilliant, and a reality I have not seen as explicitly addressed by anyone else within the firearms training community."
- Dr. H. Anthony Semone, PhD
Forensic and Police Psychologist
(Excerpted from official correspondence)
"I believe this book should be required reading for every law enforcement firearms instructor in the United States. I also believe that the training program described within it should be adopted by every law enforcement agency in the country." (Read more...)
- Jim Cirillo, NYPD, Retired
World-renowned Police Firearms Instructor
(Excerpted from Foreword)
"Mike Conti's scientific analysis and application of his many years of observations and training in the "House of Horrors" are simply brilliant. His assessment of the "puppy" or unconscious mind, and the application of operant and classical conditioning in firearms training represent the best writing and thinking that I have ever seen on the subject." (Read more...)
- LTC Dave Grossman, US Army, Retired
Pulitzer-Prize Nominated Author / Lecturer
(Excerpted from Foreword)
"POLICE PISTOLCRAFT provides the police firearms instructor with an outstanding resource. The training paradigm that unfolds in this book is so sound, it could easily be adapted to teach and refine other skills that officers need on the street."
- John Sofis Scheft, Esq.
Police Educator and Consultant
President, Law Enforcement Dimensions
"We believe that POLICE PISTOLCRAFT is a seminal book that will be a cornerstone of a revolution in professional police firearms training." (Read more...)
- Ralph Mroz
Co-founder & Training Director Police Officers Safety Association (POSA),
POSA Journal of Tactics & Training, 3rd Quarter 2006
"Mike Conti's new book, "POLICE PISTOLCRAFT: The Reality-Based New Paradigm of Police Firearms Training" is a must read for every serious police firearms instructor." (Read more...)
- Todd Bailey
Lead Firearms Instructor for the Duxbury,MA Police Department
Senior Instructor, MLEFIAA
From a Book Review published in NJ Cops Magazine, September 2006
"This book outlines a major waypoint in the evolution of police use of force training and sets the stage for scholarly research on the best methods for training police officers to perform well in making the life and death decisions that define the job. Future police firearms instructors will speak of this work in the same way that current trainers speak of the works of Jordan, Cooper, Applegate and Farnam. This book must be on the required reading list for any serious student of police firearms training." (Read more...)
- Gilbert DuVernay
Chief of Police, New Braintree Police Department, MA
President, MLEFIAA & Former Director of the Smith & Wesson Academy, Springfield, MA
From a Book Review published in the ILEETA Review, October/November 2006 Volume 2, Issue 3
"Mike's many years of experience, his total dedication to training, and his X-ray ability to see beyond a training "problem" and turn it into a success have allowed him to write a truly excellent book about TRAINING, not just about weapons. His intense curiosity and keen powers of observation cause Mike to be the proverbial sponge, so he has soaked up massive amounts of information on training, distilled out the best, and summarized it for fortunate instructors everywhere." (Read more...)
- Alexis Artwohl, Ph.D.
Dr. Artwohl provides training and consultation services across the USA and Canada
She is co-author of the acclaimed book, Deadly Force Encounters
www.alexisartwohl.com
"I highly recommend that anyone who carries a handgun for a living or who teaches law enforcement officers read this book. POLICE PISTOLCRAFT will have a dramatic effect on how officers are trained in the future." (Read more...)
- George Williams
Member of the Police Marksman National Advisory Board
President of Cutting Edge Training in Bellingham, Washington
From a Book Review published in The Police Marksman, November/December 2006 Volume XXXI, No. 6
"...Mike Conti of the Massachusetts State Police has just released his book, Police Pistolcraft, detailing his experiences in running thousands of Mass state troopers through his Applegate-influenced program, including a re-creation of the Colonel's famous House of Horrors - mandatory reading!"
- Ralph Mroz
Co-founder & Training Director Police Officers Safety Association (POSA),
From the article, "Shooting for Survival" published in the upcoming May 2007 issue of Combat Handguns
"This is the most forward thinking combat text since anything by Sykes, Fairbairn or Applegate. In half century, Michael Conti's POLICE PISTOLCRAFT is going to be looked back at, and recognized as the epicenter of a seismic shift in training, covering fields far beyond firearms. For the thinking shooter, a must have!"
- Michael De Bethencourt
Senior instructor for Northeastern Tactical Schools, specializing in defense tactics training courses for auxiliary and reserve
police officers. Mr. De Bethencourt is a nationally recognized defensive revolver, weapon disarming and improvised weapons
trainer, and an internationally recognized tactical folding knife instructor-trainer.
"Firearms' training, especially since 9/11, has become a cottage industry. Many so-called instructors who have hung out their shingle in the last few years often know less about their subject matter than their students. My association with Mike Conti spans the last two decades and I can say without reservation that he, unlike the Johnny-come-lately's, is one of the most respected trainers in the United States. Whether you are a street cop or a private citizen concerned about your safety and that of your loved ones, Police Pistolcraft is a book that belongs in your personal library."
- Denny Hansen
Editor of SWAT Magazine
---
During a trip to Israel in 1999, Mike Conti met the editor of Guns & Ammo, Garry James. It was during this trip that the idea for a column from a working police officer's perspective was first discussed, and eventually resulted in Garry offering Mike a position as the Law Enforcement Editor for the magazine.

During the two years Mike was with Guns & Ammo, he produced a column called IN THE LINE OF FIRE. A series of articles written about Mike's training philosophy and the "New Paradigm" Firearms Training Program–though challenging the core views held by many of the established "Gun Gurus"–proved to be very popular with many readers.
In fact, response to those articles from police firearms instructors all across the US inspired the creation of this book, for Conti was a bit overwhelmed trying to keep up with the many requests for information.
In addition, Conti feared that all of the research, hard work, effort, and positive results that were produced by the New Paradigm Program would be lost or misinterpreted over time if it was not documented properly.
Conti believed then, and continues to believe now, that this information is too critically important to not be shared with all the members of the police firearms training community.
The New Paradigm, its benefits, reasoning and results are all explained in POLICE PISTOLCRAFT.
---
The LAW ENFORCEMENT TRAINING NETWORK (LETN) PROGRAMS
Mike Conti has served as a member of the LETN Content Advisory Board since 2003.
LETN was among the first organizations in the country to take note of the work being conducted at the Massachusetts State Police Academy shortly after the development of the New Paradigm Police Firearms Training Program.
LETN produced and maintains a series of training/informational videotapes about the New Paradigm and the MISTIC Programs referenced in POLICE PISTOLCRAFT. These tapes are available from LETN's corporate headquarters in Carrollton, TX.
---