Browse / Buy Books, Downloads & More​
Free Shipping on all CONUS orders!

---
Firearms Training, Police & Tactical (Instructional)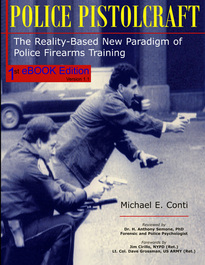 Police Pistolcraft: The Reality-Based New Paradigm of Police Firearms Training by Mike Conti is a ground-breaking firearms instructor's training manual that's been hailed as a seminal work that will help revolutionize the way professional police officers train with their handguns.

The original instructor's edition is currently available ONLY as an instant PDF download. Click BUY NOW link below to own this user-friendly, special eBOOK edition. This Hi-Res PDF version allows you to print out a hard copy of the book as well as have the easy-to-use and access digitized version on your computer.

​Specifications: 360 information-filled pages (8.5 x 11), over 250 photos and illustrations.
HI-RES version (86.6 MB) ​ ​ISBN: 978-0-9772659-3-0 PDF Download only. $30.00
---
---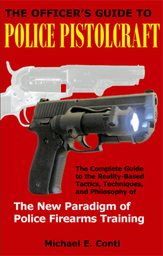 The Officer's Guide to Police Pistolcraft
provides a wealth of information relating to the pistol and its use by the modern-day police, security, or military professional.Written in an easy to read and understand format by
Mike Conti
, an internationally-recognized, award winning police firearms trainer and author.
​
What the experts are saying: Ed Lovette
has called it "the gold standard for giving an officer the basic skills in pistolcraft."
John Farnam
wrote that "a copy should be in the hands of every young police officer!"
Dave Grossman
has described it as "a tremendous resource for the police officer and the police trainer."
​Complete with over
400 pages
of vital information and more than
300 photographs
and illustrations.
The Officer's Guide to Police Pistolcraft
is a MUST HAVE for anyone whose life may depend upon their skills and abilities with a handgun!
ISBN:
978-0977265909
,
424 pages, photos and illustrations. 8.5 x 5.5
$34.95
​
The Officer's Guide
is available in both Paperback (Add to Cart) and PDF Instant Download (BUY NOW) formats.
---
Click blue BUY NOW link below for DOWNLOADABLE PDF VERSION of ​The Officer's Guide to Police Pistolcraft
---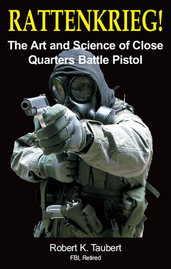 BEST SELLER! Bob Taubert's legacy work in 4th Printing!
Rattenkrieg!
About the Author: Bob Taubert, known to many readers of firearms and tactical publications under the pen name, Bob Pilgrim, is a USMC combat veteran and legendary member of the FBI. During a career that spanned three decades, Taubert operated and trained all over the world with many of the premier law enforcement and military tactical and anti-terrorist units in existence. He also played a direct role in the establishment and training of several well-known special operations units to include the FBI s elite Hostage Rescue Team (HRT) and the DEA s Operation Snowcap elements. This book is Taubert's legacy to the brave men and women that serve America in the law enforcement, military, and security fields.
​
About the Book: Rattenkrieg was the term used by German soldiers during the battle for Stalingrad to describe the type of vicious, close quarters battle they experienced while fighting a determined force of Russian soldiers and partisans street by bloody street. That term has been adopted for the title of this book because the true art and science of close quarters battle pistol skills can only be found when the techniques practiced and employed are based not on unrealistic range training protocols, but on the vivid realities experienced when engaged in a life or death fight for survival and total victory.

​Prospective students are advised that ​RATTENKRIEG! is not a basic pistol course and that very little time is spent reviewing those skills. Students must be able to hit the ground running and physical fitness is a definite asset when challenged by some of the more dynamic aspects of this training. While primarily focused on the handgun, many of the drills and techniques shown in this book are adaptable to the long gun as well.

ISBN: 978-0977265947, 248 pages, loaded with photos and illustrations. 8.5 x 5.5. $24.95

RATTENKRIEG! is available in both Paperback (Add to Cart) and PDF Instant Download (BUY NOW) formats.
---
Click blue
BUY NOW
link below for
DOWNLOADABLE PDF VERSION
of ​RATTENKRIEG!
---
Chemical Agents, Delivery Systems & Protective Masks (Instructional)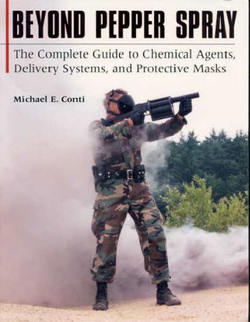 Beyond Pepper Spray: The Complete Guide to Chemical Agents, Delivery Systems, and Protective Masks
By Mike Conti
Beyond Pepper Spray
is a must-read for law enforcement, military and security personnel, or anyone with responsibility for, or concern about, the use of chemical agents or weapons. This is indeed a comprehensive guide. Its 256 pages provide a grounding and basic knowledge of all aspects of the field. Chapters are devoted to: safety, chemical weapon overviews, methods of delivery, various types of grenades and projectiles, specialty-impact munitions, aerosol subject restraint sprays, fog generators, compressed gas systems, gas launchers, tactical deployment considerations, masks, maintenance and training curricula. Three appendices cover additional detailed material. This will undoubtedly be the basic reference on the subject for many years, and Conti's crisp, clear writing style is easy to read.
Published by Paladin Press 2002.
ISBN 158160291-X,
8.5 x 11, 256 pages filled with information, photos, and illustrations! Softcover.
$34.95
---
---
The Jelly Bryce Trilogy by Mike Conti
​Historical fiction based on the amazing life of a US Law Enforcment Legend!
Available Now

"I cannot praise Mike Conti's Jelly Bryce trilogy too highly. He has breathed life into Jelly Bryce in ways my biography could not; ways in which the dry facts of newspaper articles, police reports, personnel files and even interviews of some friends and relatives have fallen short. I only wish Jelly could have read the trilogy. I believe he would have approved."

--Ron Owens

Author of "Jelly Bryce, Legendary Lawman"

As seen on the AHC series,
​American Lawmen
Book I:

The Legend Begins

From his earliest days, Delf "Jelly" Bryce had an almost mystical affinity for all things firearms.

Growing up in the wilds of Mountain View, Oklahoma during the first part of the Twentieth Century, young Delf mastered the pistol, rifle, and shotgun, successfully using them to win competitions as well as take home game from the plains and mountains surrounding his home.

While on his way to enroll in college, Delf was sidetracked by a simple wooden sign posted along the road advertising a local police shooting competition. His decision that day to turn off the main road and test his skill against some of Oklahoma's finest marksmen would lead him down a completely different path--one littered with dangerous criminals, dedicated lawmen, and fierce violence.

Inspired by historical events,

Jelly Bryce: The Legend Begins will introduce you to one of the most compelling characters in the annals of American law enforcement history.

Paperback, 244 pages, 8.5 x 5.5. ISBN: 978-0977265978 $14.95

---

5 Stars!
​Readers' Favorite
---
Book II: FBI Odyssey

is the second riveting read in Mike Conti's Jelly Bryce trilogy. In part two we follow Detective Delf Bryce as he leaves the Oklahoma City Police Department to become a member of J. Edgar Hoover's Federal Bureau of Investigation.

America at that time was in a restless, uneasy state. The devastating Great Depression had not yet ended and the world stood on the brink of total war. In addition to the threat posed by the Axis powers in Europe and Asia was the specter of the Red Menace--the Communist movement--at home. Many Americans, including Hoover, head of the country's fast-growing secret intelligence service, believed the Communists presented a clear and present danger to the United States and its way of life.

Initially recruited into the FBI by none other than Hoover himself to battle the well-known gangsters of the era, Jelly soon found himself embroiled in missions with international implications. To do his job and keep himself alive, he would need to rely on both his legendary gunfighting skills as well as what author John Steinbeck referred to as the final weapon--his quick, analytical brain. Inspired by historical events.

Paperback, 296 pages, 8.5 x 5.5. ISBN:

978-0996530200

$17.95

---

5 Stars!
​Readers' Favorite

2016 Global Ebook Award Winner!
---
Book III: The Man in the Mirror 2017 Global Ebook Award Silver Medal for Contemporary Historical Literature Fiction!
​

The third and final installment of the JELLY BRYCE trilogy follows FBI Special Agent Delf "Jelly" Bryce through the tumultuous war years from 1941 until his death in 1974.

Many things changed for Jelly during this time period, as both he and the country he loved matured while dealing with threats both from within and without.

​This is a story of true courage, amazing physical ability and personal honor tempered by the inner struggles of a man driven to do the right thing in a world in which that path is not always clear.

Inspired by historical events.

Paperback, 369 pages, 8.5 x 5.5. ISBN: 978-0996530293

$19.95

2017 Global Ebook Award Winner!

5 Stars!
​Readers' Favorite

---
---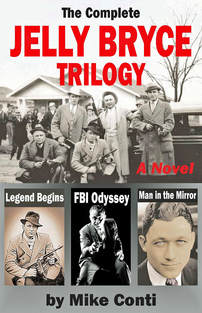 The Complete Jelly Bryce Trilogy
Available in Kindle now!
​
The Jelly Bryce Trilogy by Mike Conti tells the fascinating life story of one of the most iconic members of US law enforcement, Delf "Jelly" Bryce.
Though the story is historical fiction, it's based on what is known and believed about Bryce's life--a life which was shrouded in mystery. From his birth and childhood in the wilds of Indian Territory (later Oklahoma), through his years serving as a detective with the Oklahoma City Police Department, and then later as an agent in J. Edgar Hoover's FBI, the Trilogy puts you into the mind of Jelly Bryce so you can experience his life and adventures through his eyes.
Bryce was one of the most deadly lawmen to ever carry a badge. He was also so extraordinarily fast and efficient with a gun that his shooting feats became the subject of study and enduring legend.
All three volumes of Mike Conti's widely praised Jelly Bryce Trilogy are included in this novel.
Only $20.00 on Amazon!
---
---
Get Your Jelly On! Order Your FBI ODYSSEY T-Shirt!
CAUTION:

We've been told this high-quality, 100% cotton T-Shirt may not be politically correct. We're not concerned. Jelly wouldn't be either. Just be advised, you may trigger the less-bold's need for a "safe space" when wearing.

Sturdy heavyweight cotton
6.1 oz. 100% pre-shrunk cotton

Small, Medium, Large and XL available.
​ $26.00

Delivered to your door.
---
ATTENTION INTERNATIONAL CUSTOMERS:
Please refer to your customs office regarding any local duties and/or taxes you may be required to pay for products you order from us. We ship all international orders via international air mail. You are responsible for any additional duties, taxes, and/or brokerage fees upon receipt of goods. We are not responsible for any book/s seized by Customs or any other government agencies.
​