Loss Prevention Officer Training
---
NEW! LOSS PREVENTION OFFICERS INSTRUCTOR PROGRAM! Read more
---
NON-AGGRESSIVE COMPLIANCE TRAINING for LOSS PREVENTION OFFICERS COURSE - Delivered to your officers by certified, experienced SGI trainers!
Non-Aggressive Compliance Training for Loss Prevention Officers is one of Saber Group's most popular offerings for the corporate sector. The program was created and custom-designed at the request of a major corporate entity, and addresses the specific needs of professional loss prevention department officers. To date hundreds of LP personnel from well-known stores all across New England and New York have successfully completed this course. The program has been well-received by Loss Prevention (LP) professionals from cites ranging from Boston, New York, Cambridge, and Schenectady, to North Attleboro, South Portland, Enfield, and more.

As with most Saber Group offerings, this one-day training program has been designed to be delivered to the location of the client's choice. Corporate classroom, hotel conference room, or any other suitable location can be used. Once location arrangements have been made and a course scheduled, all the client needs to do is have their designated personnel show up on time. Saber Group does the rest.
---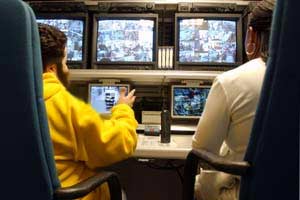 Topics Covered in the One-Day Program include:
Mental Preparation for Stressful Encounters

Anger Management

Observation & Description

Weapon & Threat Indicators

Proper Physical Positioning

Strategy and Tactics

Verbal Commands

Verbal Judo

Use of Force: Reasonable vs. Excessive

Liability Considerations

Operating within Defined Parameters

Escort Techniques: Low Profile, Transitory Discomfort

Handcuffs: Applications & Use

Handcuffing Techniques: Simple, Direct, and Effective

Defensive Tactics: Reasonable and Effective
---
Program Requirements
We provide everything from pens and workbooks to PowerPoint® Presentation equipment and any attendant training materials. Each iteration of the program includes both classroom instruction and low-impact, physical skills development training. A ten-question written pre-test and final test are also administered, with all attendees remediated to 100% at the conclusion of the program. Each iteration is administered only by highly trained and certified members of the Saber Group Cadre.
No subcontractors, substitutes, or replacement personnel will be utilized at any time for any reason.

Each iteration of the program is administered in similar format and fashion, ensuring consistency in training for all attending personnel. Prior to administering the program, a completed lesson plan will be submitted to the appropriate Loss Prevention Manager or other designated person for approval. Any changes to the program will also be submitted for review and approval prior to being implemented.
Classes may be conducted during the week or on weekends, days or evening. We are always willing to adjust any aspect of the program to best fit the client's needs.
Each member of the department who completes the training receives a personalized certificate suitable for framing. This certificate will verify that they received the specific training covered in the package program. A packet containing copies of the program attendance sheets, schedule, outline, critiques, written tests, and handouts are also provided to the Loss Prevention Divisional or Regional Manager. This packet should be kept on file with the department to document the training that was provided to its Loss Prevention personnel. Saber Group Inc. will also maintain a copy of all training records.
As with all Saber Group programs, we insure the client's investment of time and money by providing a 100% money-back guarantee for this program. Simply stated, if you are not satisfied with the services we provide to your personnel, you don't pay. We can do this because we are that confident in the level and quality of training that we provide.
---
Excerpts from Course Critiques
"Excellent course. Instructor was very knowledgeable. Great job!"
"I didn't think there would be this much info. Very informative."
"This helped me, being smaller, to think of what to do."
"I feel more confident approaching shoplifters."
"Excellent speaker. Wonderful presentation. I'd recommend this course to other agents in a heart beat."
"Instructor presented all the information in a useful, friendly, and informative manner. I enjoyed the class!"
"Instructor was very enthusiastic and very informative, very helpful."
"Instructor was very thorough on hands-on applications."
"Great instructor - easy to understand, easy to follow, informative and fun!"
"I learned a lot of new methods that will come in handy. I think this training should be mandatory."
"The course was very helpful. The instructor comes across as a nice guy, good attitude, very knowledgeable."
"I expected not to learn that much; I was wrong. I learned a ton! The amount of hands-on time is enough. The mental awareness was more beneficial."
"Instructor was clear and concise, very easy to follow."
"This course properly and swiftly instructed me how to correctly and safely handcuff a person."
"Excellent instructor, excellent class, lots of info."
"Class should be mandatory!!"
"You have a lot of knowledge and I really enjoyed the seminar. I learned so much! All of the material was very well explained. I grasped on to the concepts very easily. Thank you very much, I hope to come to another one of these in the future."
"Good instructor, patient. Very professional. Thanks!!"
"Thoroughly presented all materials with examples. Any other retail store would benefit from this course. I have been in LP for 15 years and I learned new material in this course."
"Solidifies policy and procedure with useful restraint tactics. Sound effects on slide show were unnecessary - instructor was entertaining enough!"
"I liked it because it was fast and effective. Everything was very easy to grasp."
"Good work! I liked the handcuffing procedures."
"The material reflected the real world practice of handling situations, not textbook theory. It also gave insight into the psychology behind the apprehension process."
"This course actually exceeded my expectations. The psychological issues are very important to discuss - we never talk about those issues at work, usually just the physical issues are discussed."
---